Being committed and passionate about their work, workaholic women do not get enough time to get ready or sometimes, there's not enough time. Here is a big bag full of makeup and hair tips for you which will help you look beautiful in no less than 5 minutes. And there's a Did You Know fact for you too that is you can achieve these hacks with the products you already have. 😀 Isn't it a plus point? That is, you do not need any investment. The way to looking more beautiful than you are follows the picture 😉
1. Perfect Cat Eye Look
All the workaholics out there, you obviously have so many name cards or old credit cards. It's time to make use of it. You can use it as a "beauty tool" and save a lot of money. You can use the edge of the card to get the perfect line.
2. Plumped Lips
There are many hacks to get those plumped lips that you have dreamt of. One of the easiest is rubbing a little bit of peppermint or cinnamon oil on lips. First, exfoliate your lips and apply peppermint oil on your lips and then follow with an essential oil. Draw lip outline and fill in with a nude lip color. You can also add shimmer to the center of your lips to give it a 3D effect. Peppermint works as a lip plumper. Lip plumper generally costs from 2000 bucks. Why invest such a huge amount when you can use peppermint?
3. White Eyeliner To The Rescue
If you are tired and hung over and have to go to work looking all fresh, there's a hack for you too! Just add some white eyeliner to the waterline of the eye and put some white eyeliner in the inner corner of your eye and you are ready to go!
4. Perfect Your Eye Shadow With Scotch Tape
Yes, you read it right.  You can use scotch tape as a beauty tool. Just take a small piece of the tape and paste it in a diagonal direction from your end of the eyebrow to the starting of your nose. The tape acts as a barrier and does not allow excess eye shadow to ruin your show.
5. The Ice Cube Hack
Putting some ice on your face in the morning will refresh you. Wash your face with a face wash and then apply ice all over your face. This will close your pores which prevent breakouts and reduces puffiness and redness for glowing skin. This saves a lot of time, and there's no need to invest on a primer.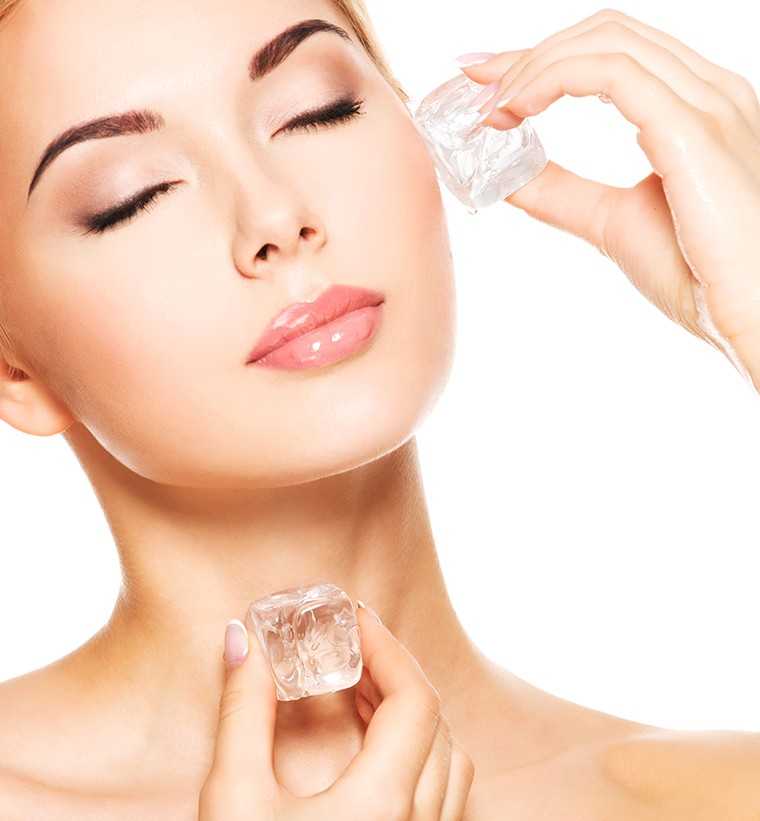 6. Pencil Eyeliner To Gel Eyeliner
Pencil eyeliner can be used as a gel eyeliner too. It can be utilized for a smooth smokey eye transition and also as an eyeliner to give a liquid eyeliner like finish. Just heat up the pencil tip near a flame. Do not insert the pencil inside the flame!! It will make it extremely hot and the chemicals inside it can react at such temperatures and can harm your eyes. Let it cool a little before applying.
7. Whiten Teeth In 2 Minutes
Yellow teeth can really ruin the show and look very unpleasant. For workaholic women, it is more important to be presentable at all times. You can whiten them up in less than 2 minutes. Use a little toothpaste and add one table spoon of baking soda and hydrogen peroxide to it and lastly, add some water. Mix all these ingredients and brush your teeth with it. Wash your mouth after you are done. Do it once a week until the desired results are achieved.
8. Puffed Eyes Hack
We all know the goodness of green tea for our health. But the tea bags after you are done steeping are also useful. Put these bags in the refrigerator for 5 minutes and then put on your eyes for about 2 minutes. The caffeine contained in it reduces the puffiness.
9. More Focus On Eye Brows
Spending on fake eye lashes can be a big investment and stick it on original eye lashes is very time-consuming. So why not grow long lashes naturally. This can be done using castor oil. Take an old mascara brush or a cotton swab and dip it in castor oil and apply it to the lashes at night. Repeat it for few weeks or until you are satisfied with the results. After a period of time, you will notice a huge difference in your lashes.
10. Drying Painted Nails Faster
All the women know how tiring it is to wait until the nail polish dries wholly or else the blunder that happens. Sitting for 10-15 min doing nothing makes restless specially workaholic women. So, there's a hack to dry them in less than 5 minutes. Take cold water and put some ice cubes in it and then insert your hands in it for about 2-3 minutes. The second hack is to add a drop of olive oil to each finger and allow the oil to run down the nails. This acts a barrier.
11. Baby Powder To The Rescue
We all have baby powder or talcum powder at home. We know you workaholic women do not have the time wash your hair every day. If your feels a little oily and you don't want to invest in a dry shampoo,  you can use baby/talcum powder as a dry shampoo. Just apply some powder to the scalp and rub a little and you are ready to go.
12. Lip Balm To Tame Baby Hair
Baby hair, flyaways or spies that unruly hair is the real pain.  Workaholic women, you can use a lip balm to tame them. Take lip balm and use this to stick these baby hair to other hair. Note that, this hack will make your hair a little oily, so you will need to wash your hair more often. Apply it on baby hair and comb them so that they stick. Clear mascara acts as a hair gel.
13. Mascara hack
This is a tip for women who have thinner lashes and wants instant volume. Just coat your eyelashes with some baby powder and then apply mascara to them. It will instantly make your lashes more fuller and longer. Use the first beauty tool talked about which is the card. Always place a card on the eye lid while applying mascara so that it does not smudge. Who has the time to reapply it specially workaholic women?
14. Contour Using Fork
The fork is the next beauty tool for the women who love doing contouring on a daily basis. The fork can be used for contouring the nose perfectly. Place the fork on the nose and mark the side hollow parts of the fork with the contouring shade and the center part with the highlighting concealer and then smudge it out. This will give you a very sharp contour in a very less amount of time.
15. Concealer and Highlighter Are Best Friends For The Workaholic Women
If you have less time, don't worry. Apply concealer to conceal the dark circles and on the acne marks (if you have)  and set it with a setting powder. If you have naturally perfect skin, this is all you should do. But for others, use a highlighter on the high points of your face and put on some lipstick and you will rock it.
These were a few beauty hacks which can make the life of workaholic women simpler and save a lot of time. But always remember, the less, the better. 🙂